DISNEY
Disney +, ABC, FX and National Geographic Win 2021 Creative Arts Emmys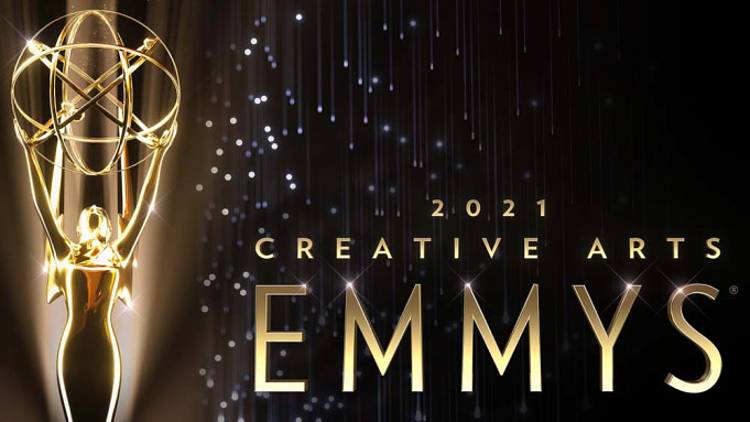 He 2021 Creative Arts Emmys were held this weekend, focusing on the technical aspects of TV shows, including editing, working with a camera, hair, and makeup.
Disney + went on to win 13 Emmys, mostly for The Mandalorian i WandaVision. ABC, FX and National Geographic also received 3 Emmys each at the end of the two-night ceremonies.
An edited version of the two-night Creative Arts Emmys will air on Saturday, Sept. 18 (8 p.m. ET / PT) on FXX, if you want to see how the awards are given.
---
These are all Creative Emmys awarded to Disney-owned networks and broadcasts:
Insert from Getty Images
CHOREOGRAPHY FOR VARIETY OR REALITY PROGRAMMING (JURY)
Dancing with the stars
Routines: Double Step – Uccen / Tap Dance – Let's fall in love at night
ABC • BBC Studios
Derek Hough, choreographer (top photo)
CINEMATOGRAPHY FOR A REALITY PROGRAM
Life below zero
Body Of Work Series
National Geographic • BBC Studios for National Geographic
Danny Day, director of photography
John Griber, director of photography
Simeon Houtman, director of photography
Ben Mullin, director of photography
Michael Cheeseman, director of photography
David Lovejoy, director of photography
Brian Bitterfeld, camera
Tom Day, camera
Jeffrey Alexander, camera
Josh Fisch, Camera
CINEMATOGRAPHY FOR A SERIAL CAMERA (HALF HOUR)
The Mandalorian
Season 2 – Episode 7: "Chapter 15: The Believer"
Disney + • Lucasfilm Ltd.
Matthew Jensen, ASC, director of photography
CONTEMPORARY COSTUMES
To put
Season 3 – Episodes 7 and 8: "End of the series"
FX Networks • FX Productions in partnership with 20th Century Television
Analucia McGorty, costume designer
Michelle Roy, wardrobe assistant
Linda Giammarese, wardrobe supervisor
CONTEMPORARY STYLISM
To put
Season 3 – Episodes 7 and 8: "End of the series"
FX Networks • FX Productions in partnership with 20th Century Television
Barry Lee Moe, head of stylist department
Timothy Harvey, key stylist
Greg Bazemore, stylist
Tene Wilder, stylist
Lisa Thomas, stylist
Rob Harmon, stylist
CONTEMPORARY MAKEUP (NON-PROSTHETIC)
To put
Season 3 – Episodes 7 and 8: "End of the series"
FX Networks • FX Productions in partnership with 20th Century Television
Sherri Berman Laurence, makeup artist for the department head
Nicky Pattison Illum, key makeup artist
Charles Zambrano, makeup artist
Shaun Thomas Gibson, makeup artist
Jessica Padilla, additional makeup artist
Jennifer Suarez, additional makeup artist
COSTUMES FOR VARIETY PROGRAMMING, NON-FICTION OR REALITY (JURY)
Black Is King
Disney + • Walt Disney Studios
Zerina Akers, costume designer
Timothy White, costume supervisor
DOCUMENTARY OR NON-FICTIONAL SERIES
National Geographic – "Secrets of the Whale"
Disney + • Red Rock Films for National Geographic and Disney +
FANTASY / SCI-FI COSTUMES
WandaVision
Episode 1: "Filmed in front of a live studio audience"
Disney + • Marvel Studios
Mayes C. Rubeo, costume designer
Joseph Feltus, wardrobe assistant
Daniel Segundo, wardrobe assistant
Virginia Burton, wardrobe supervisor
EDITION OF MULTI-CAMERA PHOTOGRAPHS FOR A COMEDY SERIES
The Conners
Jeopardé, Sobriety and Infidelity
ABC • Werner Entertainment
Brian Schnuckel, ACE, editor
MUSIC COMPOSITION FOR A SERIES (ORIGINAL DRAMATIC SCORE)
The Mandalorian
Season 2 – Episode 8: "Chapter 16: The Rescue"
Disney + • Lucasfilm Ltd.
Ludwig Göransson, composer
Insert from Getty Images
ORIGINAL MUSIC AND LYRICS
WandaVision, "Agatha All the Time"
Episode: "Breaking the Fourth Wall"
Disney + • Marvel Studios
Kristen Anderson-Lopez, Music and lyrics (top photo)
Robert Lopez, music and lyrics (top photo)
EDITING IMAGES FOR AN UNTRUCTURED REALITY PROGRAM
Life below zero
Season 15 – Episode 4: "The Other Side"
National Geographic • BBC Studios for National Geographic
Tony Diaz, editor
Matt Edwards, additional editor
Jennifer Nelson, additional editor
Eric Michael Schrader, additional editor
Michael Swingler, additional editor
PRODUCTION DESIGN FOR A NARRATIVE PROGRAM (HALF HOUR)
WandaVision
Disney + • Marvel Studios
Mark Worthington, production designer
Sharon Davis, art director
Kathy Orlando, decorator
PRODUCTION DESIGN FOR A SPECIAL VARIETY
The Oscars
ABC • Academy of Motion Picture Arts and Sciences
David Rockwell, production designer
Joe Celli, art director
Alana Billingsley, art director
Jason Howard, decorator
PROSTHETIC MAKEUP
The Mandalorian
Season 2 – Episode 5: "Chapter 13: The Jedi"
Disney + • Lucasfilm Ltd.
Brian Sipe, makeup artist for the department head
Alexei Dmitriew, key makeup artist
Samantha Ward, makeup artist
Scott Stoddard, makeup artist
Pepe Mora, makeup artist
Cale Thomas, makeup artist
Carlton Coleman, makeup artist
Scott Patton, prosthesis designer
SLEEP MIXTURE FOR A COMEDY OR DRAMA SERIES (ONE HOUR)
The Mandalorian
Season 2 – Episode 5: "Chapter 13: The Jedi"
Disney + • Lucasfilm Ltd.
Bonnie Wild, recording mixer
Stephen Urata, recording mixer
Shawn Holden, CAS, production mixer
Christopher Fogel, score mixer
SPECIAL VISUAL EFFECTS IN SEASON OR MOVIE
The Mandalorian
Disney + • Lucasfilm Ltd.
Joe Bauer, visual effects supervisor
Richard Bluff, visual effects supervisor
Abbigail Keller, visual effects producer
Hal Hickel, animation supervisor
Roy K. Cancino, special effects supervisor
John Knoll, ILM visual effects supervisor
Enrico Damm, supervisor of visual effects of environments
John Rosengrant, Inherited Effects Supervisor
Joseph Kasparian, Hybrid Visual Effects Supervisor
STUNT COORDINATION
The Mandalorian
Disney + • Lucasfilm Ltd.
Ryan Watson, trick coordinator
STUNT PERFORMANCE
The Mandalorian
Disney + • Lucasfilm Ltd.
Lateef Crowder, trick performer
TECHNICAL DIRECTION, CAMERA WORK, VIDEO CONTROL FOR A SPECIAL
Hamilton
Disney + • Lin-Manuel Miranda and Nevis Productions LLC, Old 320 Sycamore and RadicalMedia
Pat Capone, camera
Jack Donnelly, camera
Dave Knox, camera
Bruce MacCallum, camera
Bill Winters, camera
Maceo Bishop, Camera
Abby Levine, Video Control
Joe Belack, Video Control