DISNEY
The restaurant Space 220 Opens at EPCOT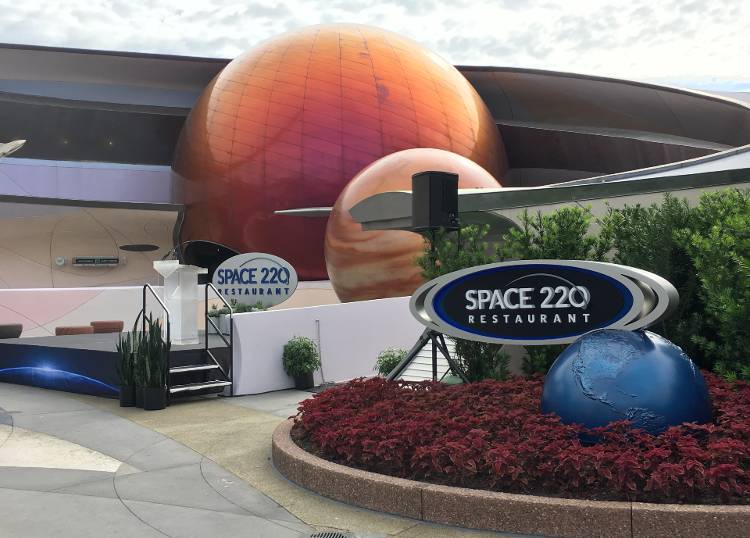 Yesterday (September 20), the inaugural ceremony of dedication of the new was held Space 220 The restaurant took place in the courtyard of the Mission: space attraction at the EPCOT, and I went there to witness it.
The ceremony featured executives from Patina Restaurant Group, Delaware North (parent company of Patina Restaurant Group), Disney, and very special guests Mickey Mouse and Minnie Mouse.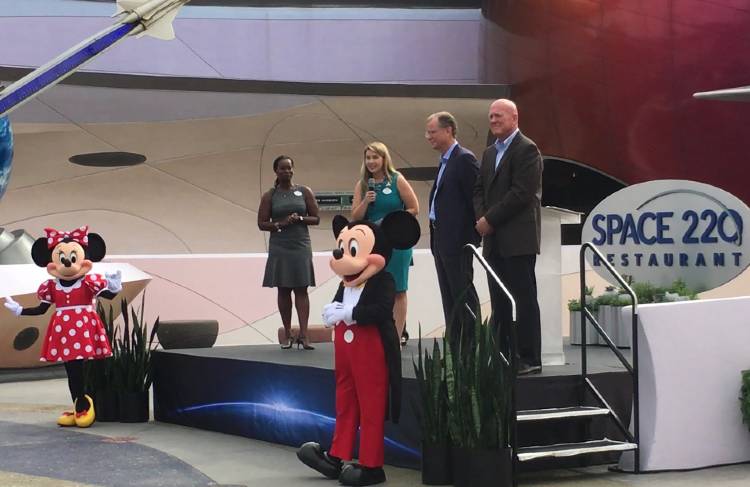 After the opening, they took us inside, where we got our boarding assignments for the trip to Centauri Space Station, where the restaurant is located.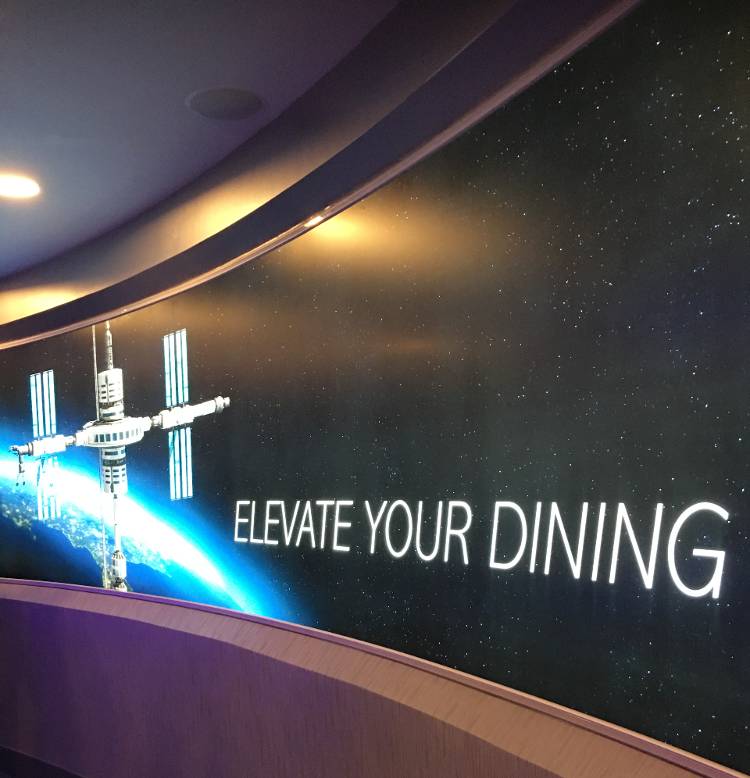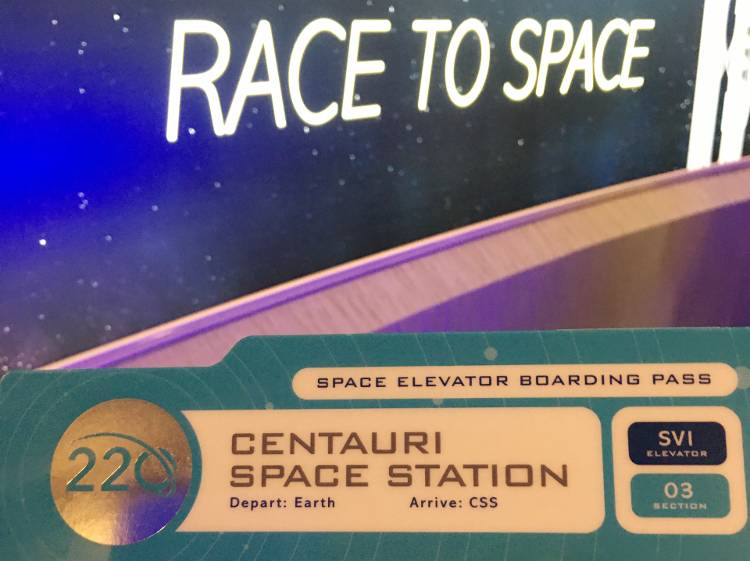 The elevators can accommodate many guests, so I didn't have to wait long to get on the circular elevator with a window on the floor and ceiling to see our ascent. The graphics were well done, but hard to capture in a still photo. I will have a video soon.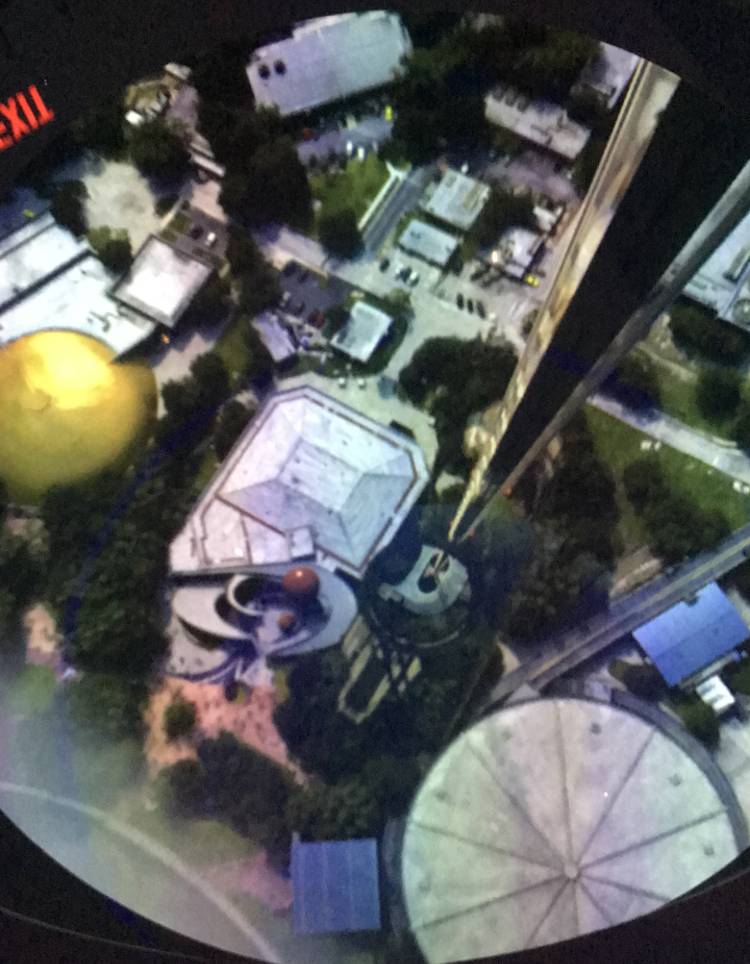 Arriving at the space station, they led us through a few tunnels to get to the dining room. One of the tunnels featured a window where we could see a rotating hydroponic space garden. Be careful with this if you have movement problems, but I found it fun to watch.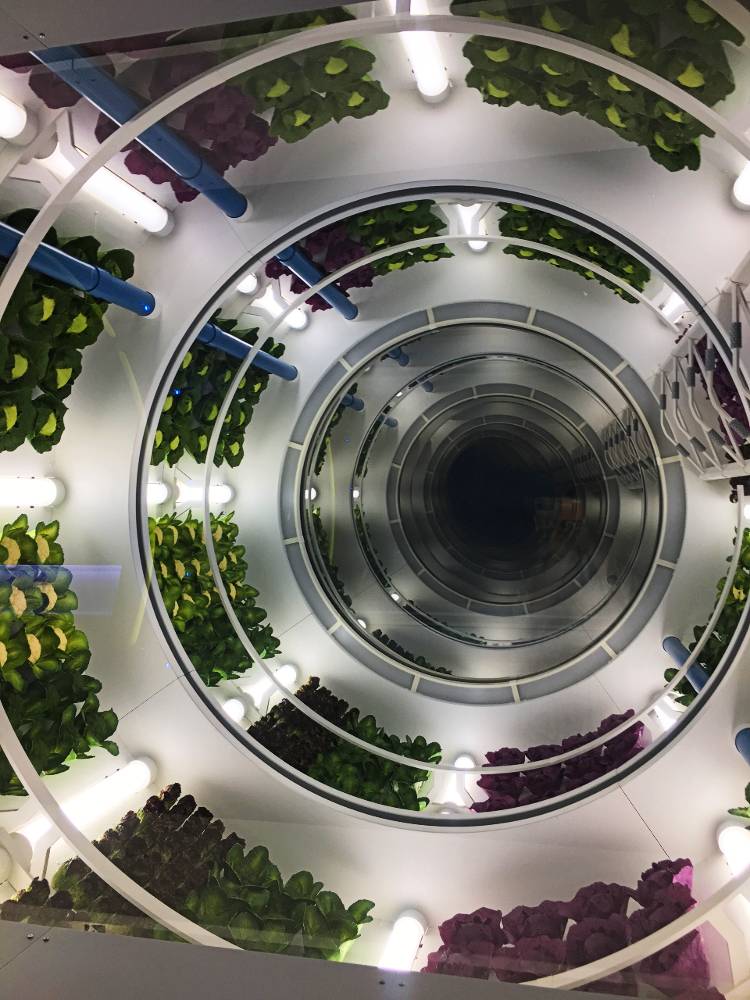 The living area is spread over two levels with huge "windows" that offer a view of the Earth as you dine. There are steps to the lower level, where the cabins allow for dining in front of the windows, along with the table seats.
The restaurant also offers a ramp on one side so that the lower level is accessible for mobility. I didn't have a problem with a walker, but scooters may not pass it that easily.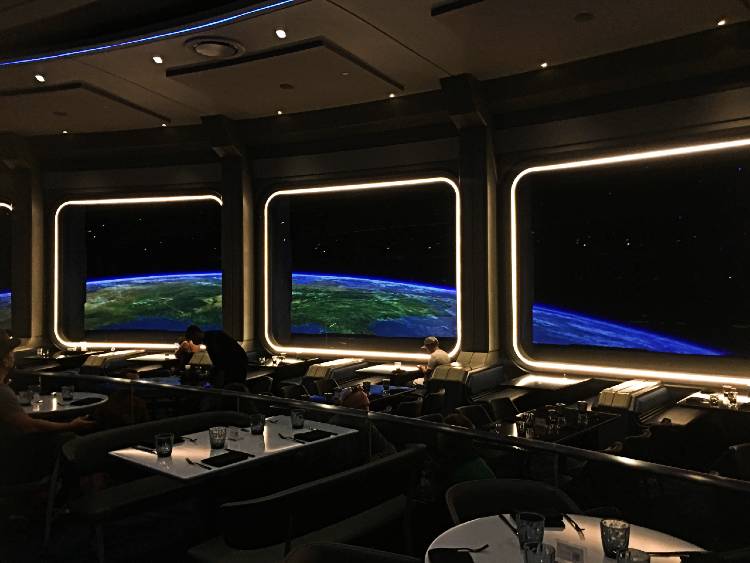 Most of the seats are for 4 or more diners, but there were a few tables for two people, so you can't eat as a couple or even alone.
As I sat down, I pointed out a QR code to display the phone menu, but there are paper menus available to request.
We tried the lunch menu during our visit. I started with the "Big Bang Burrata" with a slice of burrata over a Romesco sunflower seed sauce with a side arugula salad and grilled artichoke hearts. The tomato-based tomato sauce really made the dish and provided a nice contrast to the creaminess of the burrata. The salad tasted like citrus dressing and was good.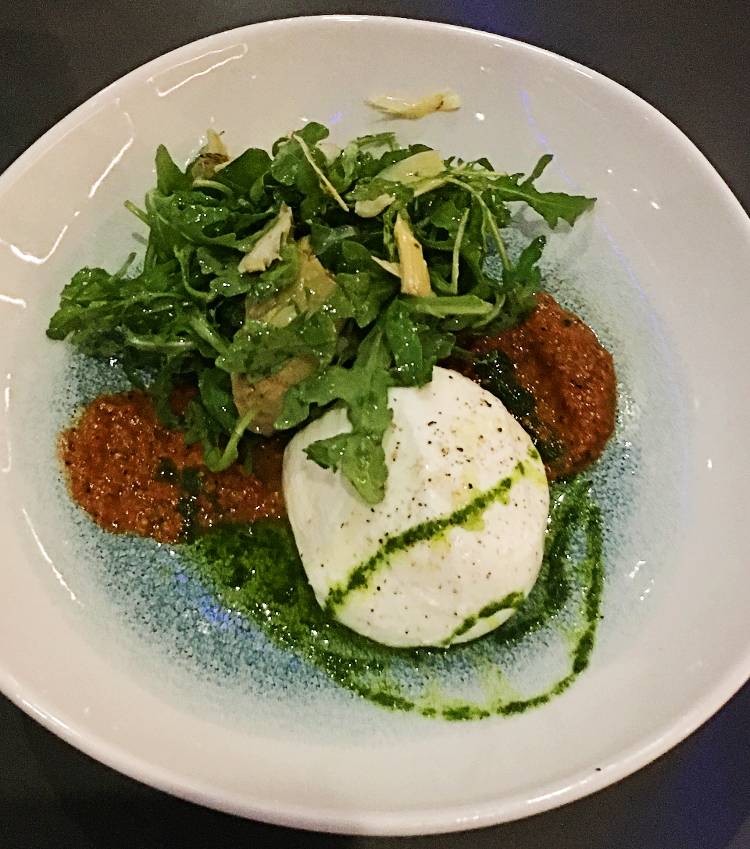 Due to my food allergies, I didn't have many options for my starter and decided to go with the "Centauri Burger" to see if it was worth ordering a burger for the fixed menu price ($ 55 for two dishes at lunch ).
The burger had a characteristic beef mix, with white cheddar cheese, bacon, crushed lettuce, tomatoes and a sriracha sole. It was a hearty burger and I appreciated that the bacon was cooked crispy. It was accompanied by fried potato wedges and a pickle spear that was so huge, I think it was a half pickle cut to length. Overall, it was tasty and stuffed.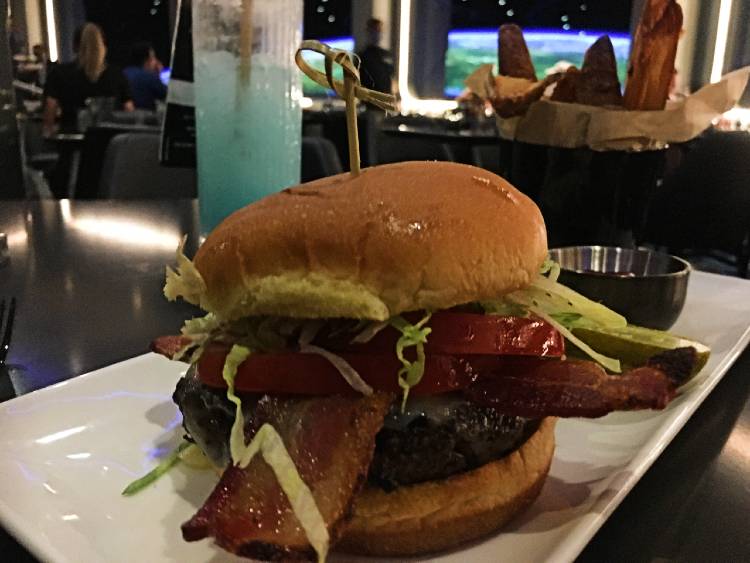 I also ordered a cocktail in the "Zero Test" section of the menu called "Moon Rocks" which contained coconut, blue cotton syrup and lemonade, with a pop rock side pack to add as you wish. It was very sweet and tasted like liquid caramel cotton. I liked it, but it might be too sweet for some.
Now, if you read my preview of the restaurant, you'll remember when you order a Zero Proof cocktail (or a children's meal), it also includes a limited edition Space 220 trading card package. As a lifelong astronomy enthusiast, I loved looking at the charts and reading the stories behind them. It is definitely worth giving up alcohol for a drink if you do not have a child with you.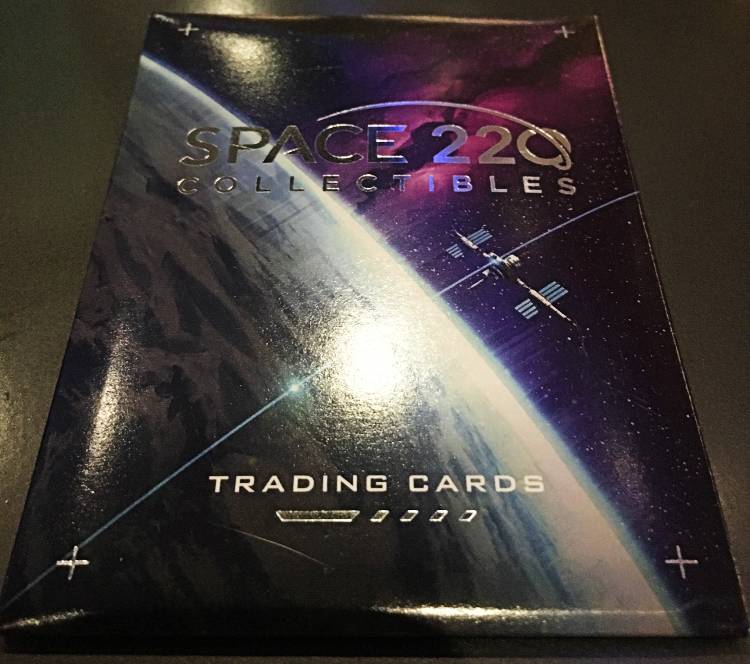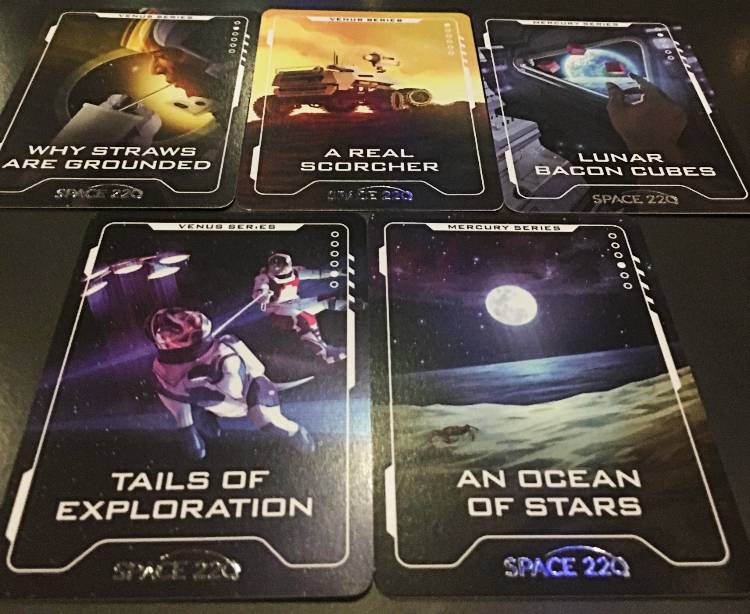 A friend at a nearby table also allowed me to take a picture of her "Bluehouse Salmon" which was topped with glazed carrots, King Oyster mushrooms, bok bok choy in a Beurre Blanc (French butter sauce). He liked it a lot.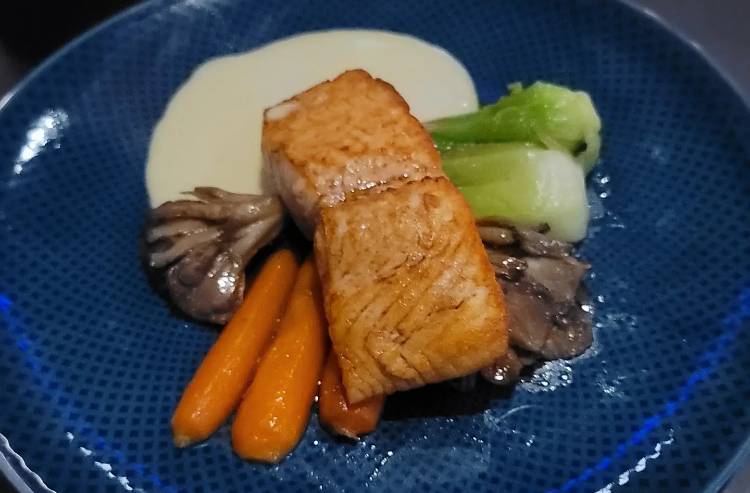 I ended up with desserts, which are not normally included in the fixed price, but are available for an additional charge. I chose the vegan carrot cake, which was topped with a carrot puree and sprinkled with nugget seeds and candied walnuts. For taste, I couldn't say that the vegan cake was different from the non-vegan version. I couldn't even tell that the cream cheese was vegetable. It had a slightly denser texture, but was indistinguishable from normal carrot cake, and was very delicious.
As he ate, he kept looking out the windows. Although the view of the Earth is stationary, there are moving spacecraft that dock in and out of the space station. My server told me that the Millennium Falcon sometimes appears, but I didn't detect it during my stay there. However, the highlights for me were the astronauts. Some had just gone out for a walk in space, but I saw a duo playing a brace and another couple dueling with lightsabers. They are so fast that it's hard to leave food and take a picture on time.
I would also like to point out that the restaurant was very attentive to my food allergies. My server not only asked before I received my order, but the chef came out to talk to me about what he had ordered to make sure there were no hidden allergens. It is a very grateful detail.
After the meal, I walked around the lounge area, which includes its own bar food menu. There are not many seats in the lounge area, but it is always available on foot, unlike the dining area which will require bookings from 27 September.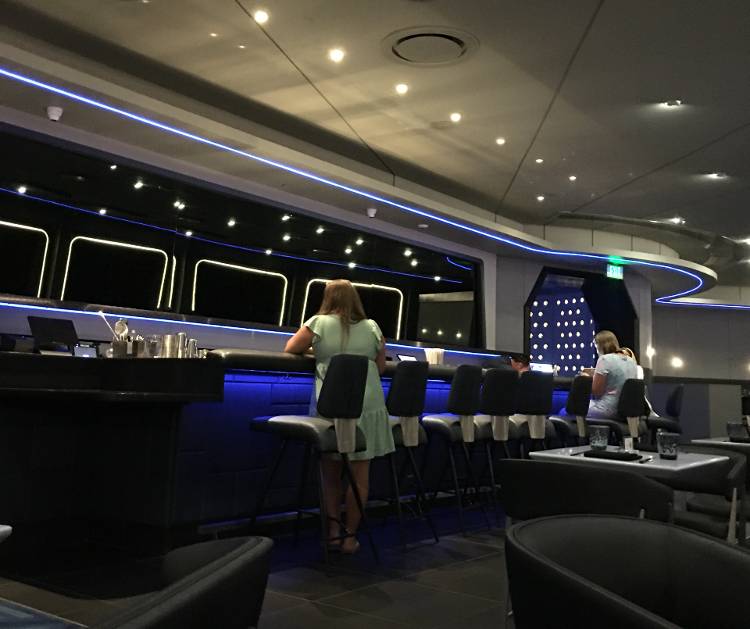 Leaving the restaurant allows guests to return to the elevators on Earth, so if you missed the show on the climb, you can see it upside down on the way back to EPCOT. Definitely be sure to look up and down.
Overall, the food and drink were great, as was the service, but it's the ambiance and theme that make Space 220 a must-have dining experience.
Until September 26, the dining room is not reached, but if you intend to get a table, it will mean a long wait in line. When I left the restaurant around 1 p.m., the waiting line went down to the neighboring building on the test track. My advice would be to head here as soon as the park opens.