DISNEY
Why is Walt Disney World so big?
Walt Disney World is huge. Not only in the metaphorical sense, "dominates the sense of the American imagination," but in the literal sense. The Walt Disney Company owns more land in central Florida than they will ever be able to develop.
Don't you believe us? Well, in the five decades since WDW opened to the public, the company has built four theme parks, three water parks (one missing), the entire Disney Springs complex, about 30 resort hotels, and a wealth of infrastructure. behind the scenes, more than half of the land they own is still undevelopable land and at their disposal.
So why did Disney buy so much extra land in Florida? To paraphrase, it all started with a man … the man in fact: Walt Disney himself.
To understand why Walt Disney insisted on so much land for the Florida Project that it would eventually become Walt Disney World, one must understand Disneyland. Walt poured his heart, soul, and pocket into building the happiest place on Earth, buying as much land in Anaheim as he could afford for the theme park. Famously, Walt could not even afford to build a hotel on site at the time, but he entrusted businessman Jack Wrather with the rights to build the Disneyland hotel.
Suffice it to say that Walt's money problems quickly evaporated when Disneyland opened with criticism and surprising success in 1955. The Disneyland Hotel, which opened a few months after the park, was also a success and the Wrather Corporation went having a successful partnership with Disney until the 1980s, when "the mouse" acquired the company to gain control of hotel ownership.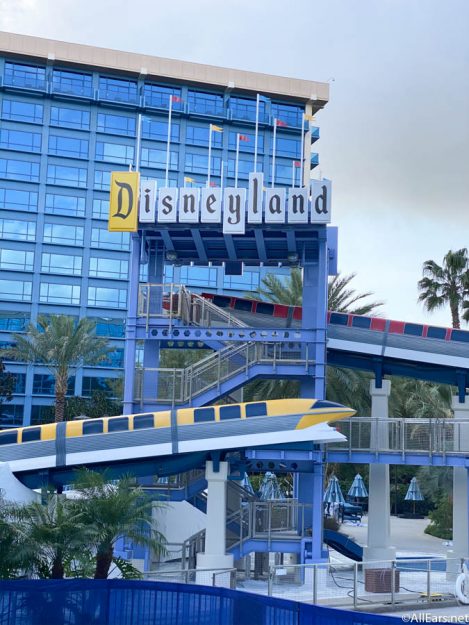 However, while Walt and Jack Wrather enjoyed a warm partnership, the same could not be said for most Disney neighbors. After the successful opening of the park, the land around Disneyland soared in value, and was quickly swallowed up by businessmen eager to ride Walt's boots. All sorts of hotels, motels, and tourist traps arose literally within walking distance of the park, many of which didn't live up to Disney standards. Also, to Walt's chagrin, these establishments invaded the park audibly and even visually at times.
When Disney began planning to open a second theme park in the early 1960s, it searched everywhere from Saint Louis to New York to find the perfect spot. Given what happened in Anaheim, it may not be surprising that the purchase and control of a large amount of land was at the top of Disney's list when it came to finding places, and in fact it was a decisive factor in discarding several areas. Of course, in addition to the desire to control the land around his park, Walt also had a further reason to look for such a large piece of land: his dream of the original version of EPCOT AKA, the experimental prototype community of tomorrow .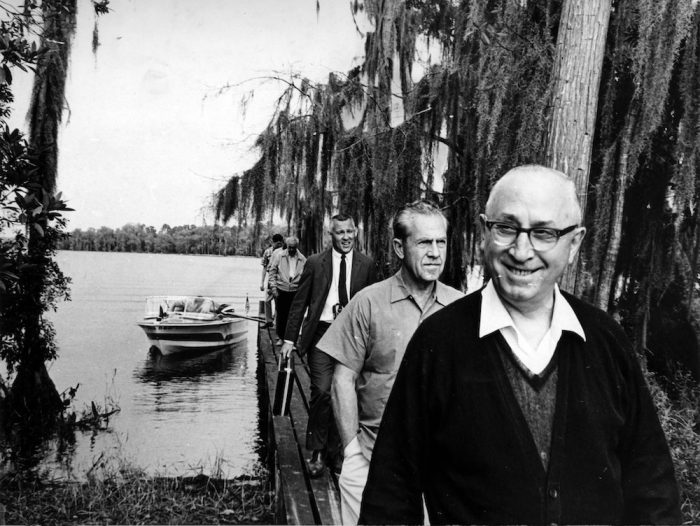 This search eventually resulted in approximately 25,000 acres of land in central Florida, near Orlando. According to Disney legend, Walt saw the eventual WDW site from above during an exploration flight and immediately learned that what was then called simply Disney World (and EPCOT) needed to be built there.
Unwilling to draw attention to themselves and in turn lead to an increase in the value of land in Anaheim, Disney tried to acquire the land surreptitiously. The company created numerous fictitious corporations (whose gambling names are immortalized in various Main Street USA windows in the Magic Kingdom) to acquire different lands.
Despite efforts by Disney, rumors began to spread rapidly that all land was being acquired by a single entity, with speculation ranging from Disney at NASA to the Ford Motor Company. Finally, Disney was exposed as behind the land purchases by the Orlando Sentinel in the fall of 1965, forcing Disney to reveal its initial plans for Disney World earlier than planned by Walt.
About a year after the news of Disney World was confirmed, Walt talked about buying land in Florida in relation to some of the problems the company had faced with Disneyland:
"The only thing I learned from Disneyland was controlling the environment. Without that, we are blamed for the things someone else does. When they get here, they will come because of an integrity we have established over the years, which they drive for hundreds of miles and the small hotels on the edge would increase their rates three times. I've seen it happen and I can't take it because, I mean, it reflects on us. I just feel a responsibility to the public when I get into this issue that we have to control, and when they get to this so-called world, we will take the blame for what happens. "
In addition, Walt uttered a famous phrase that is still used by Disney to describe WDW to this day. "Here in Florida, we have something special that we never enjoyed at Disneyland … the blessing of size. There is enough ground here to contain all the ideas and plans we can imagine. " (Special Forum of 1966)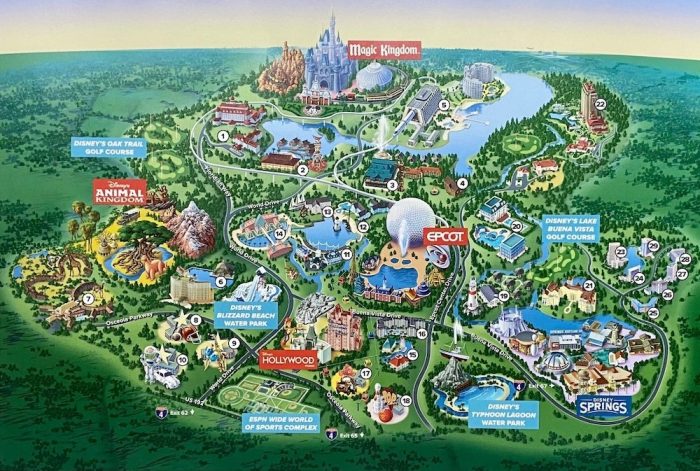 Although Walt Disney would pass a few months later, and many things about Disney World would change (including the name being changed to "Walt Disney World" in homage, as well as the abandonment of the original EPCOT incarnation), the concept of "Blessing of Size" "Remains a key part of Walt Disney World.
Do you think Walt Disney was right in pushing to acquire so much land in central Florida, or did he go overboard? Let us know in the comments below.