NETFLIX UPDATE
Composer Tim Davis discusses Netflix's 'Maya and the Three' score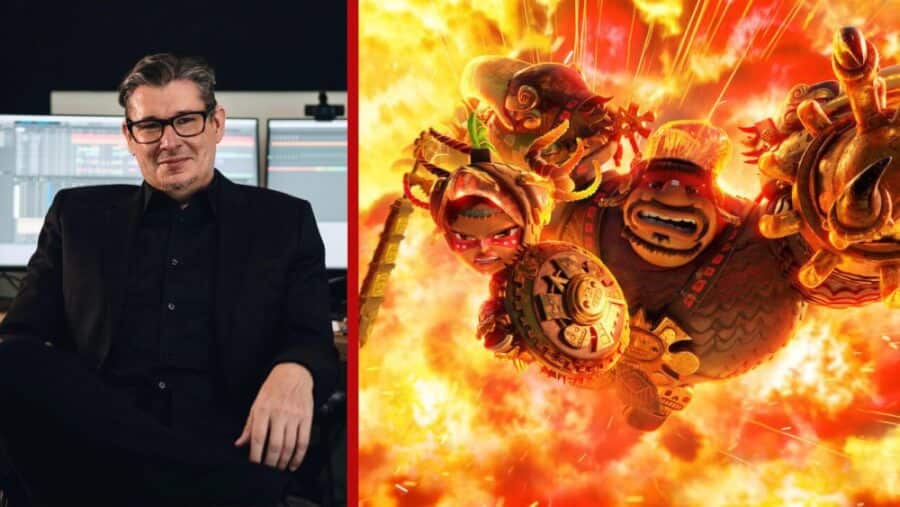 Forward Maya and three Starting streaming on Netflix on October 22nd, we spoke with composer Tim Davis in an exclusive interview about his work on Maya and Three.
Author / director George Guterres (who works with Netflix under the overall contract) is best known for the 2014 Masterpiece, Books of life, So when he said he had an idea for a new animated TV series, Maya and three, Netflix took notice.
Ideas for Maya and three Originally originated from all the side characters and stories that made it Book of life, But soon the series was transformed into what would become George's most ambitious project to date.
Davis is the weaving of Aztec, Maya, Inca mythology and modern Caribbean culture. Davis is no stranger to this type of series, having recently scored Guillermo del Toro. Trollhunters: The Story of Arcadia. Davis is a skilled orchestrator, with recent titles such as Free Guy, Snake Eyes, Thunder Force And Wandavision Under his belt.
WON: How did you first get involved? Maya and three?
I first worked with Gustavo Santa Olla called a video game Our end. Sony brought me to arrange, orchestrate and manage the scores. Gustavo liked what I did and invited me to work with him Book of life, Where I first met director George. Then a few years ago I was in line for my citizenship interview and George went there, there for the citizenship interview too! We sat together for a while and he said he was 'reuniting the team' for a new project, which of course was Maya. For Maya, Gustavo wrote some amazing themes, then handed them to me to write the scores of all the episodes.
WON: How would you describe your score for the show?
Although the show is inspired and inspired by Mesoamerica, it is not a historical epic, George took a lot of freedom. I studied music from the period and used it as inspiration, a starting point. Large visuals call for great music, so there were many places where I used a large orchestra and choir recorded in my native Australia. We also had a traditional theatrical singer from Mexico for specific scenes. But on the other end of the spectrum, for the gentle moment I used lots of single violin and okarina. We have used heavy metal and dideridu for Micktlan and his world. There's always something in George's score: the bad guy gets the heavy metal, and there's a Mayan folk song called "Bolom Chon" that is in every one of his projects. I remember using it Book of life. For Maya, It became an important theme of the score.
WON: Did director George R. Guterres have a specific idea of ​​what he wanted the show to score? Or were you allowed to test more?
I remember when we had our first playback Book of life"I like it, but it's not my movie," George said. The notes were great, but it lacked elements that would make it unique and match its visuals. It was a Hollywood movie, so we were using a traditional themed orchestra, but it was set in a fantasy version of Mexico, a very stylized George version of Day of the Dead. About this Book of life, I dropped most of the orchestral woodwinds, added many other types of flutes and included some accordions. I've used a lot of guitars for melody and harmony, but also percussion. I ended up using a lot of log drums and shaking for the main percussion, and of course heavy metal for the bad guy (who dropped a lot of studios, but we 'fixed' this mistake. Maya!).
So when the time has come Maya, We had that as a starting point, I knew George liked it. Gustavo also wrote demos for his themes and each of them brought a feeling that I included in the score. I think I told my programmer, Ryan Humphrey, that I really wanted to nail the word in this moment and "recall the moment it doesn't sound like my movie"! George liked the direction at the moment, it was a home run, but it had a lot of preparation!
WON: How was the pre-production for you? Maya and three?
I had some idea of ​​what I wanted to start based on the music from BOL and what I learned, but you never know what will work until you get the visuals. I wanted new and unique percussion, so I rented a bunch of log drums, a bombo, a shaker and a few other unique things and made my own samples for use. I also took samples of my own drums when I made my last album, so I asked them to re-program for all the big drums. I also sounded some guitar percussion to my guitarist, Michael 'Nomad' Ripoli, when Australian and Woodwind player Anita Thomas sent me a few passages to Didgaridu that I did a lot of processing and used for all the dark and ominous moments. I did some research on which flute to use and decided on Okarina because it was closer to what the Mayans had. Gustavo bought some of his demos and used sikas (pan pipes) so I want to use them. I googled some and found many videos that show all these great instruments played by Ashley Jarmak. After watching many of his videos, I texted him and asked if he was interested in playing on the score. He said yes and did an amazing job and we have now worked together on several other projects including the upcoming Bob's Burgers Movies. I knew I needed a lot of single violins, so I called my friend Max Carmazin. Max is not only a great violinist, he is also a composer. We were doing all this in the middle of the epidemic, so I needed someone who could record himself at home and he was perfect.
WON: There are dedicated vignettes for some characters at the beginning of several episodes. Does it allow you to go deeper with each character's themes?
Gustavo wrote themes for all those main characters, but they were written before the animation was over. They were amazing and really captured the essence of each character. I then had to adapt to each of their scenes. For example, the third episode is about the story behind Rico. He has this Caribbean feel, which sometimes works musically, but I took that theme and did different things in it. The episode starts with the original version of Gustavo, then it has to go to a slower emotional version where I used synth and guitar, because Rico is slow and struggling. Then he finds his way and starts using his magic, so the music has to be more epic as he finds out what he can do. There are some huge scenes where he uses his magic and the music gets huge too, I almost killed the horns to record those signals!
Maya Theme goes on a ride with him. The original has a Marikon vibe with a Tongi guitar. I've used it a lot, but I've made it heroic by putting the melody on the horns on the action orchestra. There is a moment for the end of the series where Maya fulfills her destiny and we need a song-like version. I wanted it to be recognized, but he is no longer the same. I have kept the same shape of the melody, but the intervals have been changed to new, lifting harmony; As Maya develops and grows through the series, so does its theme.
WON: Did you have a favorite character to score? Why?
I enjoyed writing for all of them and finding words that complimented their visuals and character. But I think if I had to pick Rico. As I already mentioned, his character has traveled quite a bit and there were some really huge moments to score.
WON: Both visually and descriptively Maya and three Extensive. Was your score higher because of this than some of your previous animated shows?
This one was great because it cost me more money! Trollhunter There was no budget at all for live musicians, just for an orchestra and singers, but Maya Did! But like any assignment, the music is inspired by visuals and stories. There are very tender and emotional moments here, epic battles and big wins, these are the ones I try to capture with music.
WON: You recorded it in the middle of the epidemic, how did you stop it?
Thanks to composers like Chris Beck, Mark Madersabug and Phil Eisler for my 'day job' orchestrating and score management, I've recorded a lot of scores since the Covid hit. At first we had an idea to record an orchestra in Mexico, but that wouldn't work with Kovid. We were able to record some singers in Guadalajara for certain scenes. I knew in advance that Jayavar, Ashley and Max could record in their home studio, so the question then was where the orchestra and choir would record. I always wanted to record my own score in Australia and it turned out to be the perfect project to do it. I've already scored a few there, including Michelle vs. Machine For Netflix. Although covid recording is difficult, you have to split the orchestra into parts because you have the limitations of having people who can fit in the room at once. So it takes more time and planning. But as I said, it's my other job, so it wasn't so hard to do. I contacted my friends on the Sydney trackdown and we booked the dates. I had to stay in quarantine for two weeks before the first session, so I actually wrote the last cue from my hotel room in Sydney, ignoring the Opera House! I had to run after the dub for the first episode and share the sessions, but then I was waiting for the final picture for the final, so I was in Australia (and orchestrated and scored for it). Snake eyes In between!) Then the recording is over Maya. I stayed in Australia a little longer, as I was working on the next one Hotel Transylvania I was going to manage it at the cinema and in Sydney, but I got stuck in a lockdown in Melbourne, so it had to be produced online! Ironically, while I am better known as an orchestrator than a composer, I have never performed an orchestra. Maya I put the responsibility of doing all this to my long time colleague Jeremy Levy and my team.
WON: Described by director George R. Guterres Maya and three As Mexican Lord of the Rings. Do you agree with this comparison? Why do you think he sees these matches?
Of course, he's the boss. It's an epic story, set in a fantasy world, but the themes are familiar to all of us.
However, as an Australian, I like to think of it as Mexican Mad Max.