DISNEY
D23 to broadcast live parts of the destination D23 convention from 20 to 21 November 2021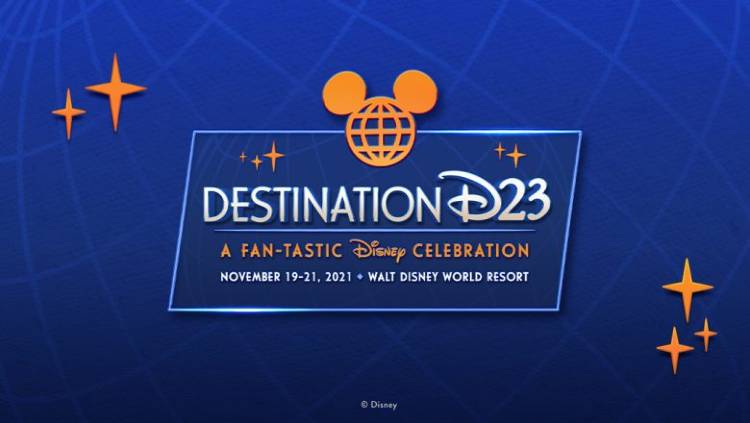 A few months ago I told you all about the Destination D23 convention that was scheduled for November 19-21, 2021 at Walt Disney World, and it looks like D23 is scheduled to stream live parts of the sold out weekend.
Check out some of Destination D23's exciting Saturday and Sunday presentations presented by Topps as they are streamed live from Disney's Contemporary Resort at Walt Disney World to a nearby device.
Best of all, everything will be streamed live for free on D23.com, DisneyD23 on Facebook and DisneyD23 on YouTube.
---
Clear your weekend plans, because here are all the panels you can see:
Saturday, November 20, 2021
9:00 to 12:00 ET: Morning presentations, which include:
Destination D23 Welcome
Connections: A Look at the Future of Disney Parks, Experiences, and Products – Around the world, we are re-establishing connections, returning to our happy places with the people who mean the most to us and making new memories. In this session, DPEP President Josh D'Amaro will share how, even in the most difficult times, Disney continues to inspire us and unite us through connections with loved ones and places … with hopes and dreams precious … and with the power of magic and infinite possibilities. You'll get a first look at some of the newest projects around the world and of course some Disney magic along the way.
Planes, trains and monorails: Walt Disney World on the Move Presented by Enterprise® – Host Bret Iwan and a series of Imagineers take us on a journey through Walt Disney World transportation, from the Walt Disney plane to the Disney Skyliner.
Walt's 70's world – A journey fueled by pop culture through the first of the Disney decades that defined Walt Disney World, with former Walt Disney World ambassadors Ken Facey and Stephen Lim.
12 pm – 2 pm ET: Afternoon break
14:00 to 17:00 ET: Afternoon presentations, which include:
Attracted to life: As part of Disney's first collaboration with Cirque Du Soliel – Michel Laprise and Fabrice Becker of Cirque du Soleil sit down with Natalie Woodward of Disney Live Entertainment and legendary Disney animator Eric Goldberg to look back on the process of years of creating Drawn to Life, from the first Animator's Trust from the team to their emotions. the grand opening of the show.
World Building for Star Wars: Galactic Starcruiser – Discover how this new immersive two-night experience is coming to life and how it connects to the wider Star Wars galaxy, with host Ashley Eckstein and a number of creative minds behind the project.
Magical entertainment for the celebration of the 50th anniversary of Walt Disney World – Join Walt Disney World ambassadors, Disney Live Entertainment creative director Tom Vazzana, and some special guests to learn about the new experiences created for "The World's Most Magical Celebration," along with some surprises!
The art and images of Walt Disney World – Join Imageryering executive Peggie Fariss and imaginaries Gary Landrum, Mike Pucher and Stacy Shoff as they share 50-year stories of the most beautiful, stunning and fascinating artwork and images behind The Most Magical Place on Earth.
Walt's 80's world – Join us for a totally amazing journey fueled by pop culture for the second decade of Disney that defined Walt Disney World.
---
Sunday, November 21, 2021
9:00 to 12:00 ET: Morning presentations, which include:
Download Disney + at destination D23 – After Disney + Day, join Disney + and your friends for a look at trends and what's below for real-time playback service.
The dawn of the Disney world – Join Steven Vagnini, author and historian behind Disney Editions' new coffee table book "A portrait of Walt Disney World: 50 years of the most magical place on Earth, "for an entertaining presentation on the development of the resort, followed by a lively discussion with Walt Disney World Resort's 50th Anniversary Global Ambassador George A. Kalogridis, Walt Disney World's inaugural ambassador Debby Dane Browne and Imagery Executive Peggie Fariss to talk about their experiences as part of the complex's inauguration and opening in 1971 (and beyond) To close the session, Walt Disney's director of archives, Becky Cline, will offer a special appearance from Disney legend Dick Nunis to see how Walt Disney's biggest dream was transformed into the Holiday Kingdom of the World.
12 pm – 2 pm ET: Afternoon break
14:00 to 17:00 ET: Afternoon presentations, which include:
Delicious Disney: 50 years of Walt Disney World – Join host Morgan Gaines and authors Pam Brandon and Marcy Carriker Smothers for half a century of culinary history, which includes stories and a look behind the creation of the new Delicious Disney Walt Disney World: Recipes & Stories from the Most Magical Place on Earth.
From the Vault: Merchandise Memories of Walt Disney World – Actress and fashion icon Ashley Eckstein and Kelsey Williams herself from the Walt Disney archives join the creative minds behind Walt Disney World's latest must-have collections to take a look at the past, present and future of the merchandise you like to collect!
Walt '90 World "Oh, pica!" The last of our trips fueled by pop culture through the Disney decades that defined Walt Disney World.
Walt Disney World musical attractions – Join Imagineers Tom Fitzgerald and John Dennis on a journey through 50 years of Walt Disney World music, highlighting songs and scores from some of the favorite attractions of fans, past and present.
A FAN-Tastic ending – The musical culmination of an exciting weekend, with performances of Disney a cappella sensation DCappella, the artist and protagonist of The Lion King Syndee Winters on Broadway and some very special surprises.
What panels will you see? Let us know in the comments!