DISNEY
ABC will broadcast 'Live in Front of a Studio Audience:' The Facts of Life 'and' Diff'rent Strokes' on December 7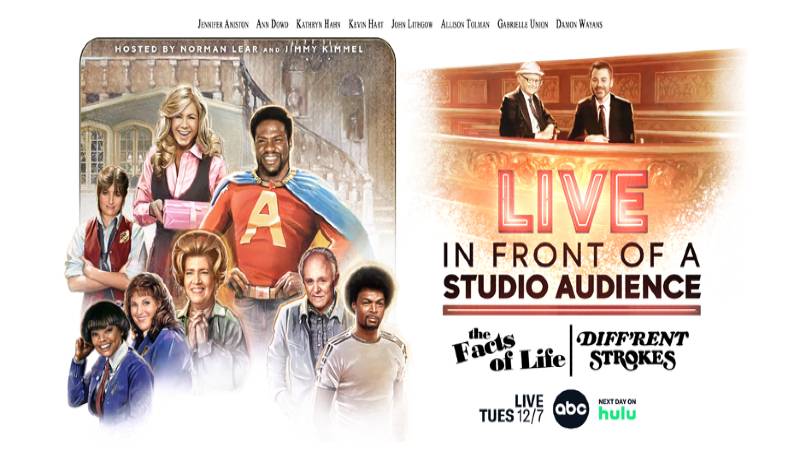 This Tuesday, December 7, ABC will air the new installment of "Live in Front of a Studio Audience" with classic episodes of "The Facts of Life" and "Diff'rent Strokes" recreated live with different casts.
Actors taking on the famous roles of "Diff'rent Strokes" include: John Lithgow, who will play Mr. Drummond; Kevin Hart, taking on the role of Arnold; and Damon Wayans, who will play Willis.
"The Facts of Life" will feature: Jennifer Aniston as Blair; Kathryn Hahn, recreating the role of Jo; Gabrielle Union, taking on the role of Tootie; Allison Tolman, who will play Natalie; and Ann Dowd, who will address the role of Mrs. Garrett in both episodes. Jon Stewart will also play a mysterious role in "The Facts of Life" (I'm thinking of George Burnett, who was originally played by George Clooney, but could be wrong).
Jim Burrows and Andy Fisher will direct the live show, produced by Kimmelot, ACT III Productions, Gary Sanchez Productions, D'Arconville, Simpson Street and Sony Pictures Television. Norman Lear, Jimmy Kimmel, Brent Miller, Kerry Washington, Will Ferrell, Justin Theroux and Jim Burrows will be the executive producers.
"Apart from my family, there is no place where I would rather be on my centenary than on a Sony soundtrack with these glorious actors reliving what our company had produced all these years ago and sharing it with millions of people. "Spectators who might use a little laughter," Norman Lear said in a press release.
"Live in front of a studio audience: 'The Facts of Life' and 'Diff'rent Strokes'" will air from 8 a.m. to 9:30 p.m. ET, and can also be seen the next day on demand and on Hulu .
The first two iterations of the ABC Emmy® Award-winning "Live in Front of a Studio Audience," both with episodes of "All in the Family" and "Good Times," drew a total of 22.1 million viewers later. 35 days late. the display reached a total of 36 million viewers on all platforms.