DISNEY
'Slugfest' docuserie on Marvel vs. DC Comics Rivalry debuts in Roku on December 24, 2021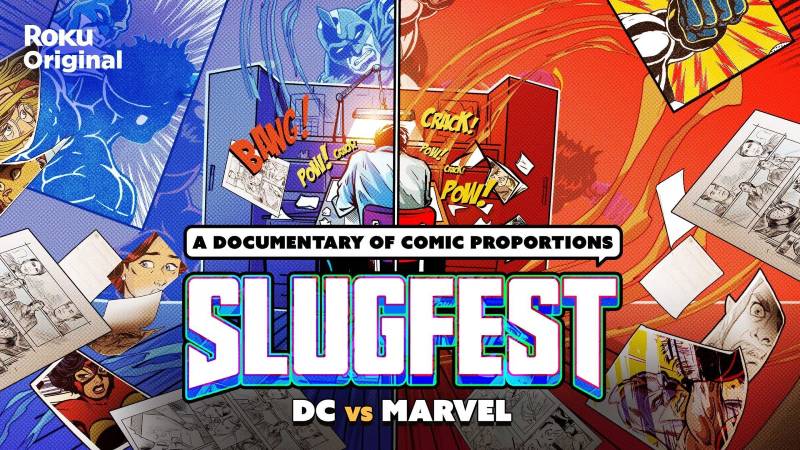 If you're a fan of Marvel Comics, or the movies made from them, you won't want to miss "Slugfest", a new 10-part docuserie that aims to unravel the unpublished story behind the rivalry between Marvel Comics and DC Comics. .
The 10-episode "Slugfest" explores how the decades-long relationship and rivalry between creative powers Marvel and DC Comics pushed both companies to innovate and develop stories that continue to captivate millions of fans around the world today.
The docuserie is inspired by Reed Tucker's "Slugfest: Inside the Epic, 50-Year Battle Between Marvel and DC." It was originally produced for Quibi, but when the streamer closed, Roku acquired the title.
---
Comic book director / actor / owner Kevin Smith will narrate each episode of the series, which was directed by Don Argott and Sheena M. Joyce.
"It was an honor," Smith said when the project was announced at the New York Comic-Con. "I will tell you when I sat down with Don [Argott] and Sheena [M. Joyce], and we did the voiceover, I had to do the narration as if I had to watch the episodes and I told them when I was doing the voiceover, I'm very glad I got involved because if I watched this show and not I wouldn't have gotten involved, I would have been very angry. "
---
"Slugfest" will also feature archive footage of Marvel's Stan Lee, who was honored to become a Disney legend at the 2017 D23 Expo in Anaheim, CA.
Here is the video of that event:
---
"Slugfest" is created and produced by Joseph Russo and Anthony Russo, best known for their contributions to the Marvel movie universe, from "Captain America: The Winter Soldier" to "Avengers: Endgame."
"The audience will leave 'Slugfest' with a whole new understanding of how the rivalry between two creative powers shaped the iconic stories and characters that fans around the world have come to know and love," said Joe and Anthony. Russo in a statement. "We are delighted to partner with The Roku Channel to discover the fascinating, but unexplained, story behind the best-known comic book competition."
Roku's head of Alternative Originals Brian Tannenbaum said in the same press release: "After watching 'Slugfest', even die-hard superhero fans will get a new perspective on how a competitive relationship took shape to the culture of fandom in what it is today. "
---
"Slugfest" will be broadcast for free on Roku on December 24, 2021. If you don't have a Roku device, there's an app for Amazon Firestick (which I use often) or you can watch it on Roku.com.
Watch the official "Slugfest" trailer here: