DISNEY
Disney Channel releases teaser trailer for 'Marvel's Moon Girl and Devil Dinosaur'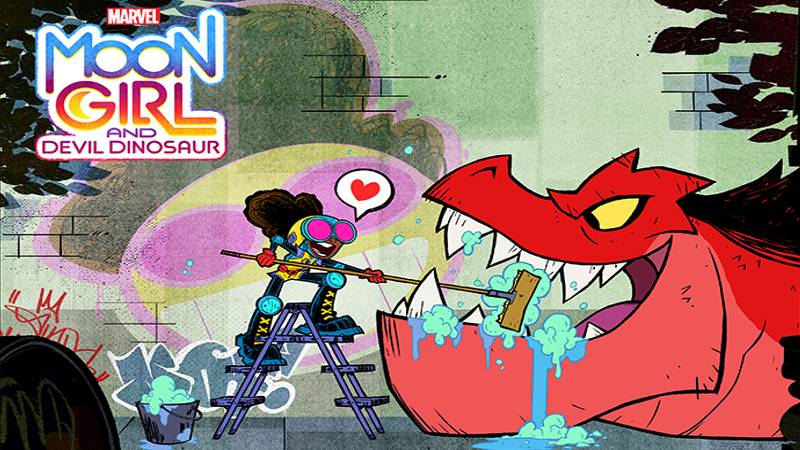 Disney Channel has released a teaser of the upcoming animated series "Marvel's Moon Girl and Devil Dinosaur" which will debut in the summer of 2022.
Follow the adventures of 13-year-old supergirl Lunella Lafayette (voiced by Diamond White) and her 10-ton T-Rex, Devil Dinosaur (voiced by Fred Tatasciore).
After Lunella accidentally brings the Devil Dinosaur to present-day New York City via a temporary vortex, the duo work together to protect the city's Lower East Side from danger.
The series is based on the comic book series of the same name, which debuted in November 2015, and is considered a direct sequel to Jack Kirby's "Moon-Boy and Devil Dinosaur" comic book series.
---
In comics, Lunella loves to daydream and invent things, and her classmates make fun of her and call her Moon Girl. It was created by writers Brandon Montclare and Amy Reeder (who also designed the character) and artist Natacha Bustos.
I don't know what part of the TV series will be based on the comic book story of the characters, but Lunella first meets Devil Dinosaur after Moon Boy instructs her to find the Nightstone and goes through a portal in the city of Nova York.
The Night Stone had fallen into the hands of Lunella, who deduced that it was in fact a Kree Omni-Wave projector.
The comics also talk about "Terrigenesis," which was a plot point in the ABC series, "Agents of Shield." We'll have to see if this new series also deals with it.
---
"Marvel's Moon Girl and Devil Dinosaur" will be produced by actor Laurence Fishburne, who also has a recurring voice role as "The Beyonder" in the series.
The characters are also Alfre Woodard (Mimi, Lunella's grandmother) and Sasheer Zamata (Andrea, Lunella's mother).
---
Here is the teaser video, presented by Fishburne: