DISNEY
"The Sunshine Flyer" will offer transportation between MCO and Walt Disney World starting in February 2022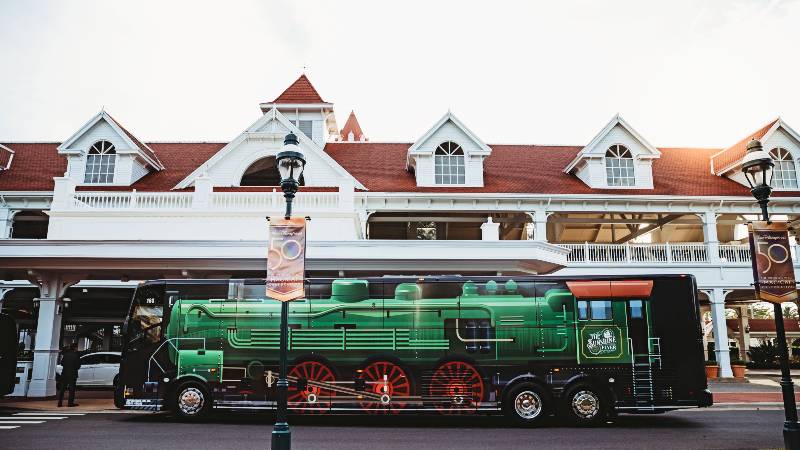 Earlier this year, we wrote about replacing Mears with Disney's Magical Express, and now it looks like another company will offer Disney guests round trips to the airport aboard "The Sunshine Flyer."
Transportation Management Services (TMS) will launch "The Sunshine Flyer", a themed bus experience that will transport guests from Orlando International Airport (MCO) to Walt Disney World® Resorts, and back to MCO, in from February 2022.
Sunshine Flyer buses are state-of-the-art and premium coaches with themes focused on passenger cars and old train engines. Even the costumes of the staff will have the theme of drivers and railway engineers of the twenties.
They certainly look more fun than standard coaches. I guess kids will love it especially.
TMS says the buses will serve all Disney resorts and are complete with a bathroom, USB chargers and three-point seat belts for the comfort and safety of all guests.
They also say that with 25 years of experience as a large event transport company working with world class events such as the FIFA World Cup, NBA Finals and various PGA TOUR tournaments, they are ready to offer a streamlined and well-executed service through The Sunshine. Flying.
---
TICKETS
Tickets cost $ 17.00 per adult and $ 12.50 per child per trip. There are no discounts for round trip bookings (RT). The RT price is simply double the one-way fares.
Tickets for The Sunshine Flyer must be booked at least four days prior to arrival. TMS says guests will receive a QR code that they will scan once they arrive at Orlando International Airport, which will ensure a smooth schedule and departures to the resorts.
In addition, in celebration of Disney's 50th anniversary, the Sunshine Flyer will donate 50% of all revenue to the first 50,000 passengers during the first 50 business days to Make-A-Wish Central & Northern Florida to support its mission. of creating a life change. wishes for children with critical illnesses.
As part of the Sunshine Flyer commitment to pay back, all Make-A-Wish children and their families will also receive a free Sunshine Flyer service for their Disney wishes indefinitely.
---
MORE INFORMATION
The Sunshine Flyer will begin service from Orlando International Airport on February 1, 2022.
For more information and to book tickets, visit sunshineflyer.com.
Here is their promotional video for the service: