DISNEY
Disney leads the nominations for the 49th Annie Awards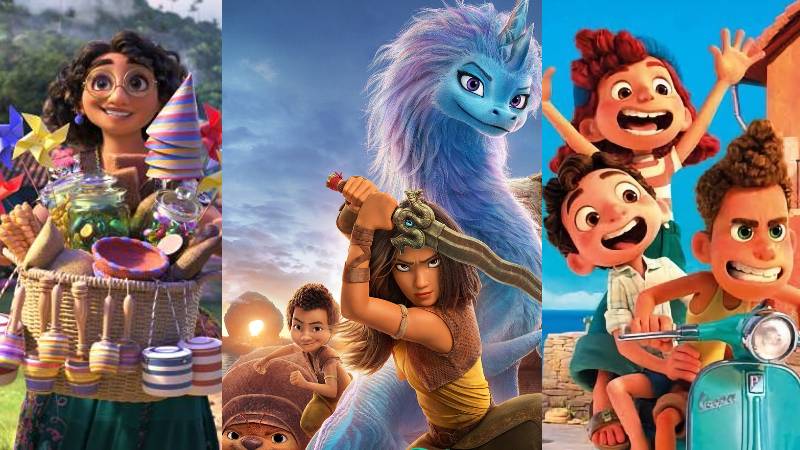 Nominations were announced for the 49th Annie Awards, which celebrated excellence in animation, and Disney films won more awards.
"Raya and the Last Dragon" by Walt Disney Animation Studios leads with 10 nominations, "Encanto" received nine and "Luca" from Pixar received eight.
ASIFA-Hollywood is the world's first and foremost professional organization dedicated to promoting the art of animation and celebrating its creators.
The winners will be announced during the 49th Annual ASIFA-Hollywood Annie Awards Ceremony on Saturday, February 26, 2022.
---
These are Disney's nominations for film and television:
Better function
Charm (Walt Disney Animation Studios)
Luca (Pixar Animation Studios)
Stripe and the Last Dragon (Walt Disney Animation Studios)
Best TV / Media
MUPPET BABIES Episodes: GONZO-RELLA (ODDBOT INC)
Best TV / Media – Children's
Amphibia – Episodes: True Colors (Walt Disney Television Animation)
Dug Days – Episode: Science (Pixar Animation Studios)
Best TV / Media – General Public
Bob's Burgers – Episode: Fingers-loose (20th TV / Bento Box Animation)
Star Wars: Visions – Episode: The Duel (Kamikaze Douga)
Best FX: Function
Walt Disney Animation Studios – Alex Moaveni, Dimitre Berberov, Bruce Wright, Scott Townsend, Dale Mayeda
Raya and the Last Dragon (Walt Disney Animation Studios) – Peter De Mund, Cong Wang, Robert Bennett, Joel Einhorn, Debbie Carlson
Best Character Animation – Function
Enchantment (Walt Disney Animation Studios) – Dave Hardin
Luca (Pixar Animation Studios) – Tarun Lak
Stripe and the Last Dragon (Walt Disney Animation Studios) – Jennifer Hager
Best Character Animation – Live Action
Flora & Ulysses (production company: Disney) (production company FX: Framestore)
Shang-Chi and the Legend of the Ten Rings (Production Company: Marvel Entertainment) (FX Production Company: Weta Digital)
Best character animation: video game
Disney Wonderful Worlds (Ludia)
Best character design: function
Luca (Pixar Animation Studios)
Stripe and the Last Dragon (Walt Disney Animation Studios)
Ron's Gone Wrong (Locksmith Animation Ltd / 20th Century Studios)
Best Direction – TV / Media
Amphibia – Episodes: True Colors (Walt Disney Television Animation)
Best Direction – Function
Charm (Walt Disney Animation Studios)
Luca (Pixar Animation Studios)
Best Music – Function
Enchantment (Walt Disney Animation Studios) – Lin-Manuel Miranda, Germaine Franco
Luca (Pixar Animation Studios) – Dan Romer
Best Production Design – Function
Raya and the Last Dragon (Walt Disney Animation Studios) – Paul Felix, Mingjue Helen Chen, Cory Loftis
Ron's Gone Wrong (Locksmith Animation / 20th Century Studios) – Aurélien Predal, Till Nowak, Nathan Crowley
Best Screenplay – TV / Media
The Ghost and Molly McGee – Episodes: All Systems No (Walt Disney Television Animation) – Johnny Castuciano
Best Storyboard – Function
Enchantment (Walt Disney Animation Studios) – Jason Hand
Stripe and the Last Dragon (Walt Disney Animation Studios) – Luis Logam
Best Voice Performance – Function
Encant (Walt Disney Animation Studios) – John Leguizamo
Enchantment (Walt Disney Animation Studios) – Stephanie Beatriz
Luca (Pixar Animation Studios) – Jack Dylan Grazer
Stripe and the Last Dragon (Walt Disney Animation Studios) – Kelly Marie Tran
Best Screenplay: Television / Media
Muppet Babies – Episodes: Gonzo-Rella (OddBot Inc.)
Best Writing – Function
Luca (Pixar Animation Studios) – Jesse Andrews, Mike Jones
Raya and the Last Dragon (Walt Disney Animation Studios) – Qui Nguyen, Adele Lim
Best Editorial – TV / Media
Amphibia – Episodes: True Colors (Walt Disney Television Animation) – Jennifer Calbi, Julie Anne Lau, Yoonah Yim, Andrew Sorcini, David Vasquez
What if …? – Episode: What if … Ultron Won? (Marvel Studios) – Joel Fisher, Graham Fisher, Sharia Davis, Basuki Juwono, Adam Spieckerman
Best Publisher – Feature Film
Enchantment (Walt Disney Animation Studios) – Jeremy Milton, John Wheeler, Pace Paulsen, Brian Estrada
Luca (Pixar Animation Studios) – Catherine Apple, Jason Hudak, Jennifer Jew, Tim Fox, David Suther
Raya and the Last Dragon (Walt Disney Animation Studios) – Fabienne Rawley, Shannon Stein, Todd Fulkerson, Rick Hammel, Brian Millman
Winsor McCay Award (in recognition of lifelong or professional contributions)
Ruben Aquino, legendary Disney animator