DISNEY
Disney Recipe: Make a snack in the shape of Mickey Mouse
Disney always delves into the holiday spirit with its delights in the parks, but today D23 offers a fun new recipe that you can make at home!
This recipe shared by D23 is for a fun Kwanzaa snack in the shape of Mickey that can have a sweet or salty touch depending on your taste buds!
Here are all the details you need to make this recipe at home!
For a sweet snack, you'll need:
1/4 teaspoon cinnamon
1/8 teaspoon sea salt
2 teaspoons coconut oil
Maple syrup or honey
Candied nuts
Dried blueberries
sweet potato
For a savory snack, you'll need:
2 teaspoons olive oil
Sea salt flakes
Goat cheese
Dried blueberries
New roasts
sweet potato
For both snacks, you will need one MickeyCut shaped cookies!
Follow these instructions:
Preheat oven to 425 degrees.
Wash the sweet potato, and peel the skin if you prefer. Cut the sweet potato into ¼-inch-thick slices. If used Mickey cookie cutter, cut into shapes now.
For the sweet version, mix the cinnamon and coconut oil in a bowl and toss the sweet potatoes to cover. For the salted version, toss the sweet potatoes with olive oil.
Place on a greased baking tray and sprinkle with salt. Cook for 10 minutes, then turn and cook for another 8 minutes or until golden.
Serve the slices with your choice of sweet or savory topping!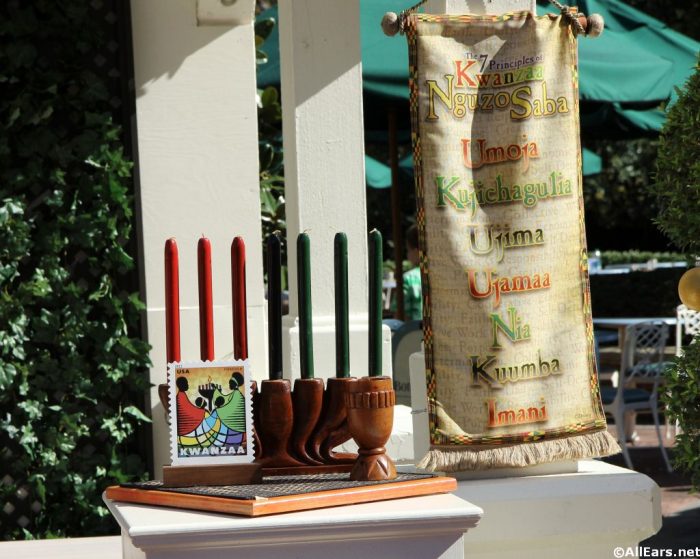 We hope you enjoy this D23 snack, and be sure to check back for more recipes. Happy Kwanzaa to all who celebrate it!
Join the AllEars.net newsletter to keep up to date with all the Disney news! You'll also have access to tips, reviews, trivia, and MORE from AllEars! Click here to subscribe!

Do you think you can make this snack for the holidays? Let us know in the comments below!