DISNEY
EPCOT International Festival of the Arts returns to Walt Disney World from January 14 to February 21, 2022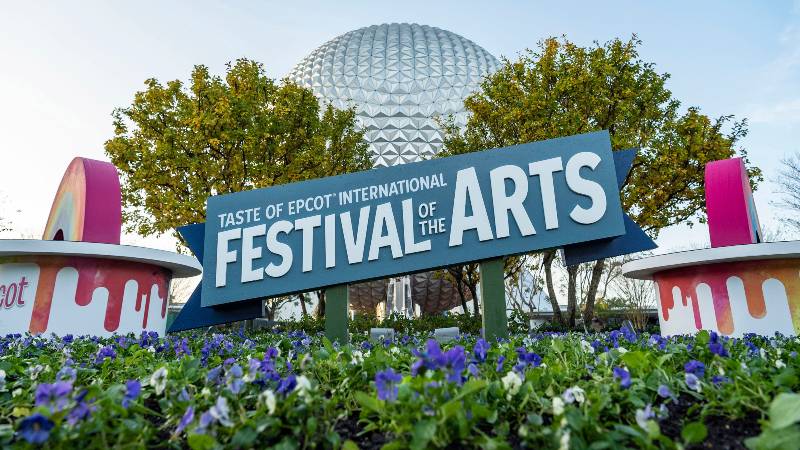 Celebrating the visual, culinary and performing arts, the EPCOT International Arts Festival returns to Walt Disney World from January 14 to February 21, 2022.
More than 100 Disney artists and visitors will be exhibiting their dazzling works throughout EPCOT. Guests can see artists working from the Disney Artist Gallery and the WonderGround Gallery, accompanied by pieces from ACME Archives, Thomas Kinkade Studios, Wyland Galleries and POP Gallery.
Figment also adds an artistic twist to this year's festival's merchandise collection, which includes clothing, accessories, trade and more.
Guests of all ages can watch imaginative chalk artists create masterpieces in Chalk art galleries or improve their own artistic skills by learning to draw a Disney character at the Animation Academy.
Kids can create their own chalk masterpieces in Kid's Chalk Art, and families can leave their art stamp on a larger-than-life mural in Expression Section: A Paint by Numbers Mural.
And around the World Showcase, guests can delve into renowned paintings from past centuries at the stunning Artful Photo Ops. They are so much fun!
---
For culinary lovers, guests will discover a delicious variety of art-inspired menus at World Showcase's 15 Food Studios.
Deco Delights and The Craftman's Courtyard will debut at the festival, with artfully presented cuisine and drinks.
The menus haven't been published yet, but here are the Food Studios you can enjoy:
The artist's table (The American Adventure)
Delight your taste buds with delicious dishes such as Wellington meat or scallops in a frying pan. Pair your plate with beer or a glass of wine.
The craftsman's yard – NEW! (Near Disney Traders)
Enjoy savory seafood and refreshing salads, inspired by one of the many centers of the Arts and Crafts movement: the California coast.
Deco Delights – NEW! (Near the port of entry)
Satisfy your sweet tooth with elegant art deco-inspired desserts, from the golden glamor of the roar of the 1920s to the bright pastels of Miami Beach.
The Deconstructed Dish (near the port of entry)
Rediscover your favorite dishes fragmented and presented like never before, such as a BLT, a French onion soup and a lime pie.
The Donut Box (Near Test Track® presented by Chevrolet®)
Sweeten your day with delicious donuts, which pair wonderfully with a glass of rosé or a coffee cocktail.
The Hungry Artist (Mexico)
Enjoy classic Mexican cuisine that is sure to satisfy artists of all ages. Highlights include roast beef and chocolate tacos.
Goshiki (Japan)
Celebrate the Japanese culinary arts with delicious dishes with the "5 colors" of Japanese cuisine. Sushi fritters and sake stand out.
Gourmet Landscapes (Canada)
Taste awesome art-made dishes with the finest ingredients that have been grown and picked from the land. Enjoy mushroom risotto, beet carpaccio and other fresh farm delicacies.
The art of French cuisine (France)
Discover delicious French delicacies and baked goods, from savory to sweet, such as a winter black truffle croissant and a hot brie in a bread bowl. Pair your dish with a French wine or a frozen martini.
The art of eating (Italy)
Enjoy Baroque cuisine, prepared with a rich color and a spectacular taste. This food studio serves arancini, ravioli and more.
The Panda Painted (China)
Enjoy decorative cuisine inspired by magnificent Chinese art, such as General Tso's shumai chicken or char siu pork loaves. Also enjoy refreshing drinks such as Chinese-inspired bubble tea and cocktails.
Pastoral Palace (Germany)
Enjoy rich dishes inspired by the rustic surroundings where Bavarian folk art was painted. Enjoy a wild boar cassoulet, a veal rib braised in red wine and more.
Pop Eats (near the port of entry)
Enjoy the delicious masterpieces inspired by the most captivating Pop Art of the 20th century. Highlights include the colorful almond frangipane cake and the ever-popular Pop't Art, a one-touch sugar cookie. In addition, enjoy savory dishes such as tomato soup with grilled cheese.
Tangerine Café: Flavors of the Medina (Morocco)
Take your taste buds on a Moroccan adventure while enjoying delicious dishes such as grilled kebabs, almond thread pockets and more. Combine your dish with a tasty hard cider or mint chai tea mimosa.
Vibrant and lively: charming cuisine (between Morocco and France)
Enjoy authentic Colombian cuisine inspired by the Disney movie Encanto, such as a spicy ajiaco soup or a homemade sausage pie.
---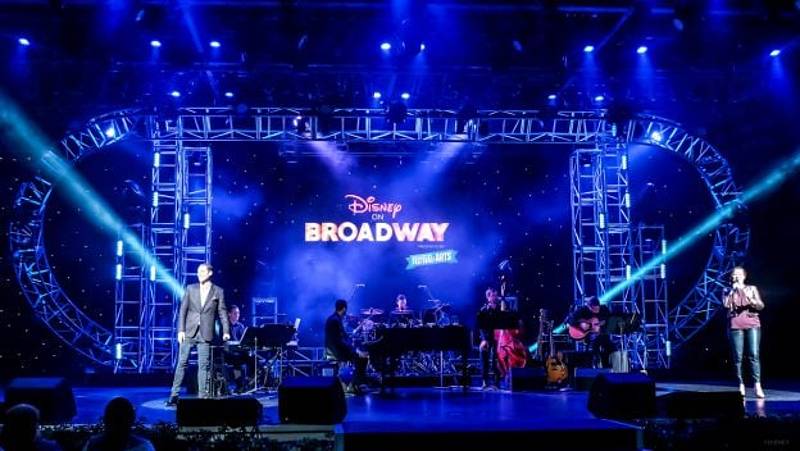 The performing arts are celebrated with the DISNEY ON BROADWAY concert series, with three performances each evening led by Broadway stars performing the favorite songs from more than 25 years of award-winning stage productions of DISNEY ON BROADWAY.
Here is the schedule:
January 14, 16, 17, 20, and 21: Arielle Jacobs ("Aladdin") and Adam Jacobs ("Aladdin")
January 15, 18, 19, 22, and 23: Kerry Butler ("Beauty and the Beast") and Telly Leung ("Aladdin")
January 24, 26, 27, 30, January 31 and February 3 and 4: Heidi Blickenstaff ("Freaky Friday", "The Little Mermaid") and Robert Creighton ("Frozen")
January 25, 28, 29 and February 1, 2, 5 and 6: Kara Lindsay ("Newsies") and Dan DeLuca ("Newsies")
February 7, 9, 10, 13, 14, 17 and 18: Ashley Brown ("Mary Poppins") and Josh Strickland ("Tarzan")
February 8, 11, 12, 15, 16, 19, and 20: Kissy Simmons ("The Lion King") and Michael James Scott ("Aladdin")
February 21: Special and expanded final performance with Brown, Strickland, Simmons and Scott
All shows are performed at the America Gardens Theater.
Dinner packages including lunch or dinner at Biergarten Restaurant, Coral Reef Restaurant, Garden Grill Restaurant or Rose & Crown Dining Room, and a guaranteed seat at a DISNEY ON BROADWAY concert the same day start at $ 57 .
---
To experience the EPCOT International Festival of the Arts, guests must have a valid ticket and a park reservation for EPCOT on the same date.
This is one of my favorite festivals as it explores the creative side and I love the DISNEY ON BROADWAY concert series. Have you been? What is your favorite part of the festival?