SPOTIFY
Khurrum Malik, Head of Advertising Business Marketing, Explains Why Publishers Should Embrace Podcasts – Spotify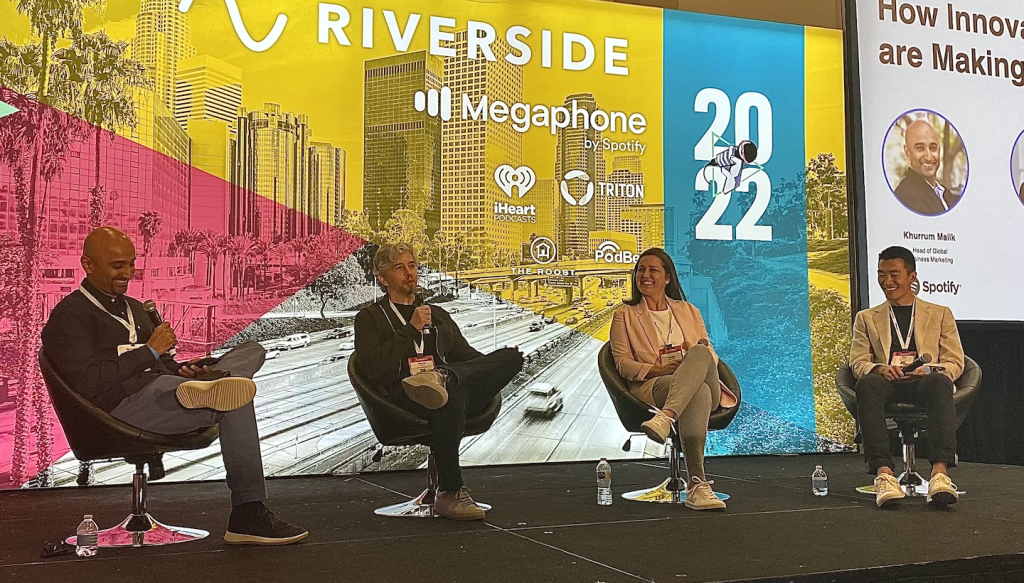 Over the past few years, Spotify has unveiled more and more tools for enterprise publishers to embark on a new endeavor: audio content. When wading into new content formats such as audio, these companies are looking for two main things: to engage and grow their audiences and to expand their monetization strategies. Spotify's podcast-hosting platform Megaphone enables publishers to create, monetize, measure, and grow their podcast businesses. Megaphone also powers the Spotify Audience Networkconnecting advertisers with immersed listeners.
As we've increased these offerings, the number of publishers taking advantage of them has increased as well. Recently at Evolutions by Podcast Movement, Khurrum Malik, Spotify's Head of Advertising Business Marketing, moderated a panel called "How Innovative Publishers Are Making Space for Audio." It featured representatives from Vox Media, Paramount Global, and Sony Music, all of which are Megaphone publishers. Each one spoke about how they built podcasts into their content strategies, what they were seeing in terms of audience engagement, and how they looked to the future.
"I was there to facilitate conversation around how these leaders are innovating and engaging new audiences through podcast content," Khurrum explained. For the Record. "How are the trends that they're seeing serving their listeners? How can they work with other pieces of content and IP [intellectual property] at their company? Are they making podcast-first content and then expanding that into a potential video show? Are they taking video shows and making podcasts from them? That's what I was there to help them explore. "
Read on for more insights from the panel and Spotify's work with publishers from Khurrum himself.
At Spotify, we've been thinking about the importance and impact of audio for content creators for a long time. What has adoption been like among enterprise publishers?
Vox Media, Sony Music, and Paramount Global are major global publisher brands that have been leaders in the space when it comes to audio content investment and innovation.. For them, IP — often in the form of television or video content — has been key to their strategies. As they turn some of that IP into podcasts as well, it's now easier than ever before to expand their podcast monetization with Megaphone and the Spotify Audience Network.
This stacks up to the numbers we unveiled during 2021 Wrapped: Our listeners spent 78% more time listening to podcasts in 2021 than in 2020. And when it comes to shows hosted on Megaphone (like the ones these publishers are creating), there's been a 67% increase in the number of shows added. Recently, we've seen the addition of enterprise publishers like FOX Audio Network and Bababam join the ranks as well.
What are some of the ways Vox Media, Sony Music, and Paramount Global are integrating or thinking about integrating audio into their suites of offerings?
For CBS, now Paramount Global, it was interesting to hear how they are thinking about their existing television IP like The Late Show With Stephen Colbert as potential for podcasts. It was interesting to hear about how they're translating TV content to this audio-only format.
At Vox Media they're mimicking some of their long-form editorial as podcasts. One show, Pivotfeaturing NYU professor Scott Gallaway and reporter Kara Swisher, became a dual podcast that's really starting to grow. And the big thing for Vox Media is always building content franchises. So in this instance, they're thinking about the quality of the podcast, how much breadth they can get with it, how to scale it. And they've started to take that podcast and expand it into events. So the Pivot The podcast has leadership events, for example, and a community that Vox Media is using to connect with people in the technology space.
What jumped out for Sony Music was how their global footprint of music is going to allow them to move into podcasts that are regional-specific. They haven't taken the opportunity to do that yet, but Emily said she could see how Sony could create podcasts with artists as hosts and build communities around those. She kept talking about doing more internationally, because the footprint globally is so big.