SPOTIFY
Spotify Closes Out an Action-Packed Week on the Croisette – Spotify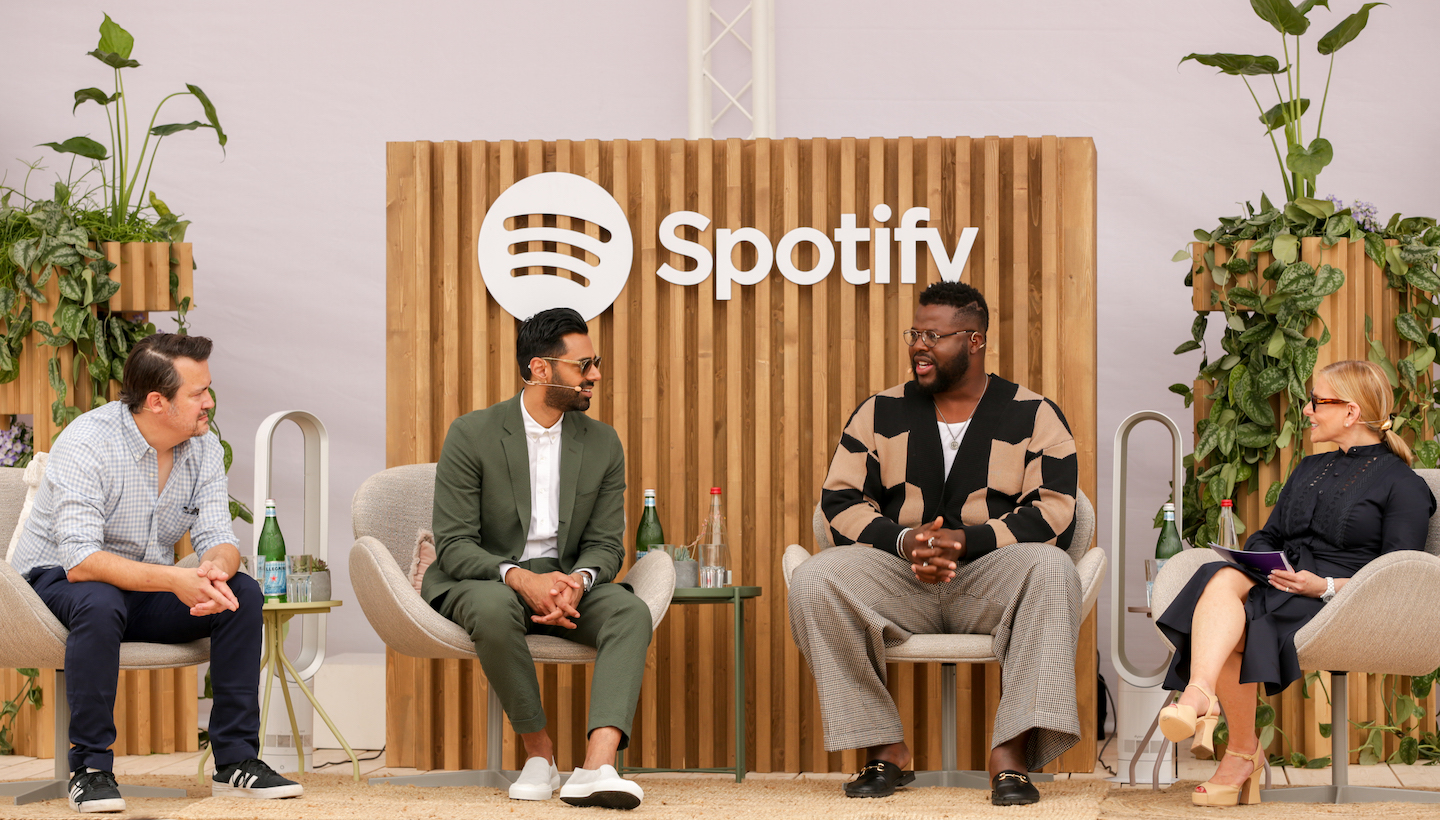 Gotham City comes to Cannes
Batman Unburied cemented its place in history as the largest Spotify Original fiction podcast global launch of all time. So at Cannes, we helped guests "Dive Into the Batman Audio Universe."
Spotify Chief Content Officer Dawn Ostroff hosted a discussion featuring key cast members and creative executives of the series: Winston Dukevoice of Batman / Bruce Wayne; Hasan Minhaj, voice of the Riddler; and Peter Girardi, EVP of Alternative Programming for Warner Bros. Animation. The conversation explored why audio was the perfect platform to tell this story, how acting for an audio series differs from film or TV, and the technology they utilized to give listeners a thrilling experience.
And fans of Batman Unburied got an extra surprise at the event: Spotify is bringing our fearless Caped Crusader back for season two, where more adventures await.
"With audio and podcast storytelling, particularly in this format, the user just needs to use their imagination. You have to imagine what you're seeing in your mind, and it's an incredible experience, calling upon each person to be more engaged. " – Dawn Ostroff
"We [Warner Bros.] do so many different kinds of projects with the DC IP, and every medium allows you to tell a different kind of story. But one horizon that we've never been able to work in is audio-only. And the scale of the stories you can tell, and the different kinds of stories — it's very exciting for us and brings a new fan base and a new appreciation of the IP that we may not have reached [previously]. " – Peter Girardi
"While we were recording Batman Unburiedit really felt like we were doing TV storytelling and a video game at the same time; it felt like a live RPG. "- Hasan Minaj
"It's always been joked that Bruce Wayne's superpower has been white privilege, and I had to go through this period of really imagining and setting myself free to find a way in. This man who completely distrusts the justice system so much that he decides to take it into his own hands — this feels a lot more than the diasporic Black experience that I knew. " – Winston Duke
And while these panels spiced up the day, Spotify kept the heat on the beach at night with our Spotify Beach parties. Over the course of the week, a star-studded guestlist saw performances by Marcus Mumford, DJ Pee .Wee (Anderson .Paak's alter ego), Kendrick Lamar, Dua Lipa, KAYTRANADA, Post Maloneand The Black Keys.
Check out the photos below to explore the evenings on Spotify Beach.